Latino Rapper Daddy Yankee Endorses John McCain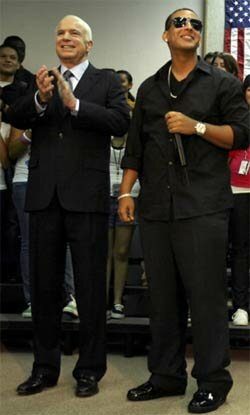 In a shocking turn of events, rapper and Puerto Rican/Latin hip-hop artist Daddy Yankee endorsed the Republican John McCain during a campaign stop on Aug. 25. Check out the video to see both John McCain and Daddy Yankee on stage together as Daddy Yankee states why he picked the Republican as his candidate.

Afterwards, John McCain is stated to have taken Daddy Yankee on his plane back to Sacramento. The two reportedly met when they both were named in "Time's 100 Most Influential" list a few of years ago.
Here's an excerpt from NY Times politics blog "The Caucas":
Daddy Yankee, a native of Puerto Rico, become a crossover hit a few years ago when his song "Gasolina" brought reggaetón , a Spanish-language spinoff of dance-hall reggae, to a wide audience. Although its catchy refrain, "Dame mas gasoline,'' or give me more gasoline, fits in nicely with Mr. McCain's "drill here, drill now" message these days, it is usually understood as a double entendre that has little to do with fossil fuels.
Watch The Video of Daddy Yankee Endorsing John McCain