Janet Jackson Set To Tour With LL Cool J; View Full Schedule of Tour Dates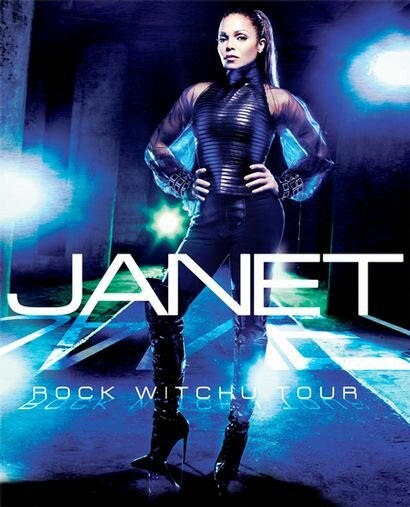 Check out this video clip from Janet Jackson's current boyfriend Jermaine Dupre's video blog at a rehearsal backstage for her "Rock Witchu Tour". Jermaine Dupri walks into Janet Jackson's dressing room as she prepares to rehearse and asks her to give the fans some information for his video channel. As Janet tells Jermaine Dupre first that it's private, second that she'll be touring with LL Cool J, she also goes on to tell Jermaine to get the f**k out in her signature sweet voice before also revealing a date of October 16 at the Madison Square Garden.
Janet Jackson's "Rock Witchu Tour" kicks off September 10th in Vancouver, B.C.
Janet Jackson's Rock Witchu Tour Dates:
Sep 10, 2008 Vancouver BC CA GM Place
Sep 13, 2008 Oakland CA US Oracle Arena
Sep 17, 2008 Los Angeles CA US Staples Center
Sep 19, 2008 Las Vegas NV US Mandalay Bay Events Center
Sep 20, 2008 San Diego CA US Sports Arena
Sep 25, 2008 Chicago IL US Allstate Arena (w/ LL Cool J)
Sep 27, 2008 Detroit MI US Palace of Auburn Hills (w/ LL Cool J)
Sep 28, 2008 Toronto ON CA Air Canada Centre (w/ LL Cool J)
Sep 29, 2008 Montreal QC CA Bell Centre (w/ LL Cool J)
Oct 01, 2008 Boston MA US TD Banknorth Garden (w/ LL Cool J)
Oct 02, 2008 Philadelphia PA US Wachovia Center (w/ LL Cool J)
Oct 04, 2008 Greensboro NC US Greensboro Coliseum (w/ LL Cool J)
Oct 05, 2008 Atlanta GA US Philips Arena (w/ LL Cool J)
Oct 07, 2008 Fort Lauderdale FL US BankAtlantic Center (w/ LL Cool J)
Oct 11, 2008 Uncasville CT US Mohegan Sun Arena
Oct 13, 2008 Verona NY US Turning Stone Resort & Casino
Oct 15, 2008 Washington DC US Verizon Center (w/ LL Cool J)
Oct 16, 2008 New York City NY US Madison Square Garden (w/ LL Cool J)
Oct 17, 2008 East Rutherford NJ US Izod Center (w/ LL Cool J)
Oct 21, 2008 Houston TX US Toyota Center (w/ LL Cool J)
Oct 22, 2008 Dallas TX US American Airlines Center (w/ LL Cool J)
Oct 24, 2008 Kansas City MO US Sprint Center TBA
Oct 26, 2008 Tulsa OK US BOK Center TBA