Soulja Boy Feels Disrespected By LeBron James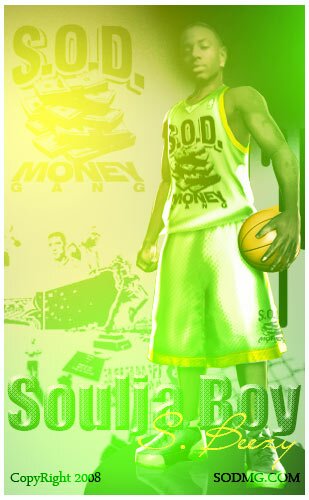 "Crank Dat" rapper Soulja Boy Tell 'Em, 17, has said that he feels disrespected by Cleveland Cavaliers' LeBron James. Why? Well it seems that LeBron James referred to Soulja Boy as less of a rapper than Jay-Z, well, sort of. At an NBA basketball game with the Cleveland Cavaliers and Washington Wizards, player DeShawn Stevenson of the Wizards told reporters that LeBron James of the Cavaliers was overrated after LeBron missed a 3-point shot that would have won the game for the Cavaliers. Shortly after those comments, LeBron said: "With DeShawn Stevenson, it's kind of funny. It's almost like Jay-Z [responding to a negative comment] made by Soulja Boy. It doesn't make sense to respond."
Well Soulja Boy spoke with Branson Wright of the Cleveland Plain Dealer and this is what he had to say:
"Someone from Interscope Records called me and sent me the quote," Soulja Boy said. "I looked and didn't really think much about it. LeBron said something like he was Jay-Z and DeShawn [Stevenson] is Soulja Boy. I took that as [disrespectful]."
LeBron later stated he was only attempting to respond to the slight given to him by Wizards guard Stevenson and said he was not trying to be disrespectful to Soulja Boy.
Well, it's too late to talk LeBron, because Soulja Boy's coming! Literally! Stevenson responded to James' comments by inviting Soulja Boy to an upcoming playoff game. Stevenson promised to have Soulja Boy at courtside in a Wizards jersey and Soulja Boy accepted the invitation.
The rapper is expected to attend either Game 3 or Game 4 in Washington and may have even placed a challenge on the table for a 2-on-2 game matchup? Huh? Wait a minute. Soulja Boy, a rapper, vs. LeBron, a top basketball star? That's like putting Jay-Z on the court with Kobe Bryant. Oops, lets not start another challenge!
Well Soulja Boy says he's up for the challenge with LeBron and this is what he had to say regarding a 2-on-2:
"Oh man, let's do it.. I can't hoop, but we all have money, and I can quickly get some training."
By the way, Soulja Boy also stated that he has never actually seen LeBron James play because he's not much of a basketball fan and more of a football fan. Maybe he'd better ask somebody about LeBron before putting down his money to win, lol.