Autopsy Report: Kanye West's Mother Died From Possible Heart Attack and Complications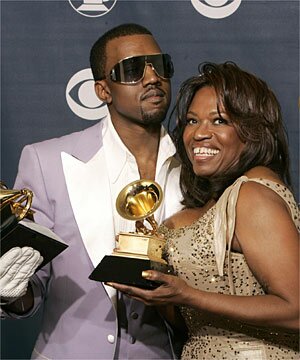 Donda West, the mother and manager of Kanye West death is still yet a mistery. According to the Los Angeles County coroner her sudden death which occurred on November 10, 2007 came to an inconclusive conclusion on Thursday.
Donda West, 58, is believed to may have died of "coronary artery disease and multiple post-operative factors due to or as a consequence of liposuction and mammoplasty". Dr. Louis A. Pena, believed a combination of heart disease and post-surgery problems led to Donda West's death, but the exact cause was not determined.
There were no drugs in her system, aside from "therapeutic levels of medication" Dr. Pena's report stated. In addtion there were also no signs of internal bleeding, but she did have bronchopneumonia in one lung. But according to the coroner's report stated that West's coronary arteries were 50% to 70% blocked and with one coronary artery hardening with plaque.
Dr. Michael F. McGuire, an expert who reviewed the autopsy report for The Times, is stated to have found several problems with her care. The doctor indicated that West should have been connected to equipment that monitored her after she left surgery.
"If you have this magnitude of surgery … you should have monitoring done," McGuire said. "Going anywhere without proper care and monitoring is inappropriate."
There is also questioning about the two care givers that state that they left Dr. West's side for several hours.
When Dr. West's throat and chest was hurting, it was thought it was the result of the breast reduction surgery and tight bandages. According to reports, West was warm to the touch and was given chicken soup, crackers, water and pineapple juice before receiving medication instead of receiving medical attention. She remained in pain and was breathing heavily.
West reportedly went to bed after this, and a close friend went to the kitchen. When she returned, Dr. West was cold and clammy. Later Donda West was pronounced dead after being rushed to Centinela Freeman Regional Medical Center.