Rapper Foxy Brown Gets 1 Year in Jail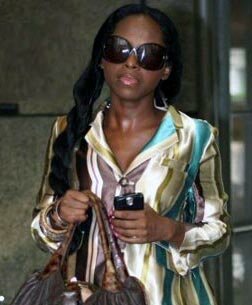 Rapper Foxy Brown born Inga Marchand, 28 is going straight back to Rikers Island, where she's spent the last two weeks after violating her three year probation several times. The rapper violated her probation by getting into a fight with two manicurists in a New York City salon in late August 2004. She was sentenced to one year in jail Friday by Criminal Court Judge Melissa Jackson at a probation hearing on Friday.
Brown was also indicted in Brooklyn earlier in the day on charges that she smacked a neighbor with a cell phone.
She was charged with second and third degree assault, attempted second degree assault and criminal possession of a weapon – presumably the cell phone.
While at the probation hearing Brown made promising to the Judge that she would straighten her life out while in handcuffs and wearing a gray pantsuit.
"I'm not going to give you any more chances," the judge told Brown. "I hope you turn your life around and never again have to stand in a court of law."

"I'm willing to do whatever I need to do to change," Brown told the judge. She said she had made a lot of mistakes before Jackson jailed her. "I realize that's not where I want to be. It's humbled me in ways I never imagined."

Jackson replied, "Ms. Marchand, it's too little, too late. I'm glad you're learning something; that's a positive."
The Judge reportedly rejected a deal for which Foxy Brown would have served nine months in exchange for a misdemeanor guilty plea. The judge stated that Foxy Brown knew that she would be facing 1 year in jail if she was to violate her probation again.
A Probation Department lawyer, Matilda Leo, read off four violations against that rapper stating that she left New York twice without telling the court or Probation Department, changed her address from Brooklyn to Mahway, N.J., with out permission, and failed to tell the court she received seven traffic summonses in New Jersey. The violations were filed against her by the Probation Department.
If Brown gets off on good behavior, more than likely she'll be out before her alleged child is born. Otherwise, the reported pregnant hip-hop rapper will give birth in prison.