Diddy On The Block, Kim Porter Takes It Up A Notch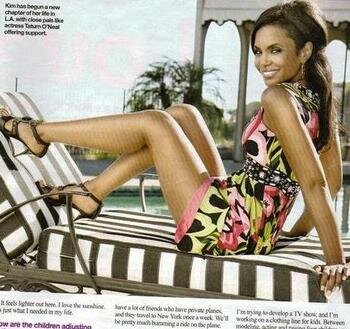 While ex-boyfriend and baby daddy Diddy is out having his fun, Kim Porter is getting herself together. The model/actress talks about her new life, raising her family, developing a TV show and starting a kids clothing line in the August issue of OK! Magazine.
Kim Porter tells OK! she's in a different place and doubt she'll get back with Sean "Diddy" Combs again. The model/actress has had a on-and-off relationship for more than 10 years with the music mogul.
OK! : Perhaps in the future?
Kim Porter: Who knows? No one knows the answer to that question. But for right now, it's just not the time.

OK: Are you dating at the moment?
Kim Porter: I'm not, but I'm sure somebody's going to bag me up real quick! I'm focused on Kim and raising my children. When the time happens, the time happens. I like a confident man. Someone that has intelligence and a fun spirit

OK: How do you feel about being out of the relationship?
Kim Porter: I feel absolutely fabulous. California is so beautiful; the mountains, the beach I just love it! It feels lighter out here. I love the sunshine. It's just what I needed in my life.

OK: Tell us about your work plans.
Kim Porter: I'm trying to develop a TV show, and I'm working on a clothing line for kids. Between modeling, acting and raising for children, my hands are full. But I'm really happy.