Lil Wayne Tells FADER Magazine He Wants To Be Remembered For More Than Just Rap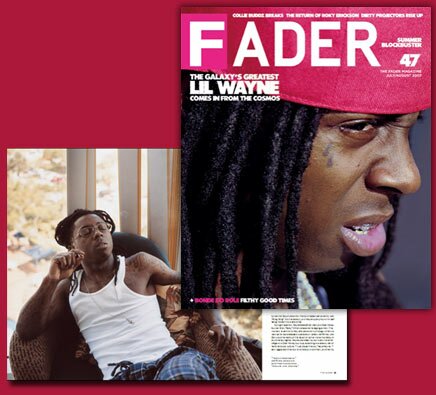 Cash Money's Lil Wayne gets the cover of the August Issue of FADER magazine. The interview and write-up on Lil Wayne talks about his label Young Money Entertainment, him recording three to four songs every night since moving his operation to Miami after Hurricane Katrina and how his dedication to his work has landed him hundreds of guest appearances and on mixtapes.
I just did a song for Dr Dre's Detox, a Madden 2008 song, Enrique Iglesias' single, Jill Scott's album, a Freeky Zeekey song, did songs for me and Game's mixtape, Blood Brothers, did the Beyonce and Shakira 'Beautiful Lia' remix, done a song with Jamie Foxx, done a song last night with Freeway, done two songs with Mya, just done a song for Ciara, and I'm on the 'Like This' remix for Kelly Rowland," Lil Wayne stated.

What can Lil' Wayne be remembered for that is more important and outside of rap music?
"I want to make sure I'm remembered for something more important than rap music."
Be sure to check out the magazine for interviews also with The Fixxers, Trae, the Cool Kids and more.
Download the free PDF of Fader Magazine Issue #47 with Lil Wayne | All Podcasts/PDF Issues