Jennifer Lopez and Marc Anthony Plans Joint Tour, Set To Release Movie El Cantante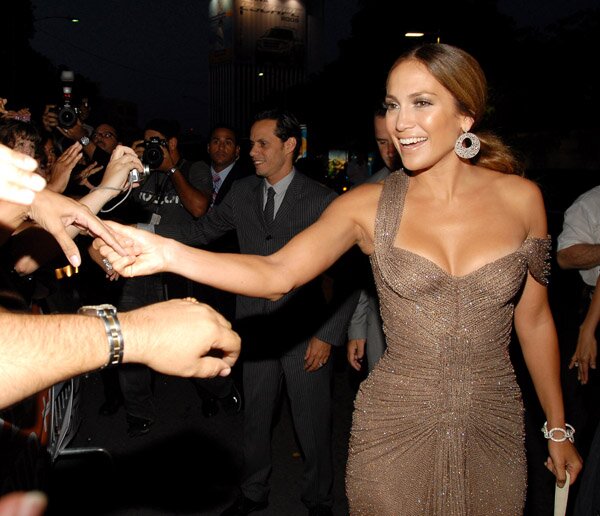 Celebrity couple Jennifer Lopez and Marc Anthony showed up at the premiere of their new movie "El Cantante" in Puerto Rico on Tuesday, which is based on the biography of Hector Lavoe, one of the biggest Spanish-language singers of the 1970s. The movie will be hitting theaters on August 3.
In addition to the new movie, Jennifer Lopez and Mark Anthony will be doing a joint tour together this fall the couple announced.
The tour, which is Jennifer Lopez's first national tour, will begin on Sept. 29 in Atlantic City. The full schedule will be announced next week.

Lopez will tour supporting her first Spanish album "Como Ama Una Mujer."
The "Jennifer & Marc en Concierto" tour will be sponsored by ING and produced by Live Nation. A dollar from every ticket sold will be donated to ING's Run For Something Better kids fitness program and directed to schools with a high Latino enrollment in the Latino community to help combat child obesity.

————-
Los pares Jennifer Lopez de la celebridad y el orujo Anthony premiered su nueva película "EL Cantante" en Puerto Rico el martes, que basó en la biografía del matón Lavoe, uno de los cantantes más grandes de la Español-lengua de los años 70 que lanzando en teatros el 3 de agosto.
Además de la nueva película, Jennifer Lopez y la marca Anthony harán un viaje común juntos esta caída que los pares anunciaron.
El viaje, que es primer viaje nacional de Jennifer Lopez, comenzará de sept. el 29 en Atlantic City. El horario completo será anunciado la semana próxima.
Lopez viajará apoyando su primer álbum español "Como Ama Una Mujer."
El viaje de "Jennifer y orujo del en Concierto" será patrocinado por ING y producido por la nación viva. Un dólar de cada boleto vendido será donado al funcionamiento de ING para algo embroma mejor programa de la aptitud y ordenado a las escuelas con una alta inscripción de Latino en la comunidad de Latino para ayudar a combatir obesidad del niño.