Say Bye Bye To MTV's 'Pimp My Ride,' Here Comes 'Trick It Out'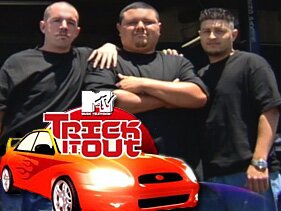 After 3 years, MTV announced that it's pulling the plug on its car show "Pimp My Ride" hosted by rapper Xzibit. The show reportedly will be replaced with "Trick It Out" which debuted on Sunday before final season of "Pimp My Ride". "Trick It Out" is hosted by former American Idol contestant Becky O'Donohue.
On each episode of Trick It Out, two teams of four automotive artisans will represent their shops. Each team gets 10 days and $15,000 to use their skills to customize a beat-up set of wheels. They can do whatever they want … as long as the finished product is tricked out to match the chosen theme! That's right, we're adding a new dimension to badass automobile makeovers, with themes like horror, safari, sixties, military and cartoons.

Car expert RJ Devera will determine the winner of each Trick It Out episode. And what will that winning team get? They'll be competing for bragging rights, of course. And they'll get to keep their tricked out car. AND they'll get to keep the losing team's ride, too!