Suge Knight Bites Entourage Star, Paris Hilton Gives Him A Lap Dance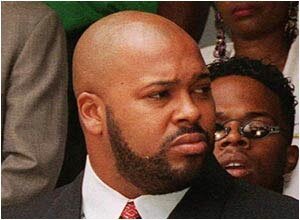 According to the NY Daily News, Suge Knight was wrestling at an ESPN ESPY Awards after-party thrown by the awards host LeBrown James at the Mondrian hotel when he allegedly bit Entourage star Kevin Connolly.
The paper reports that sources told them that the two were playfully wrestling at the late-night party until their witness(es) spotted Connolly bleeding.
"Kevin and Suge were wrestling and Suge literally bit Kevin's finger," says a witness. "He was bleeding everywhere."

Was Kevin fighting back?

"No way! He was too busy bleeding."

"Kevin didn't seem too upset," says the spy, "although he must have been in tons of pain."

In addition to the bitting incident, Paris Hilton was spotted getting cozy with Suge Knight at the late-night party with what witnesses reportedly described as a lap dance.
Shhh…..the two may be working together on that upcoming album after all or it could be for publicity. You never know.