BET Holds 2007 Scream Tour Press Conference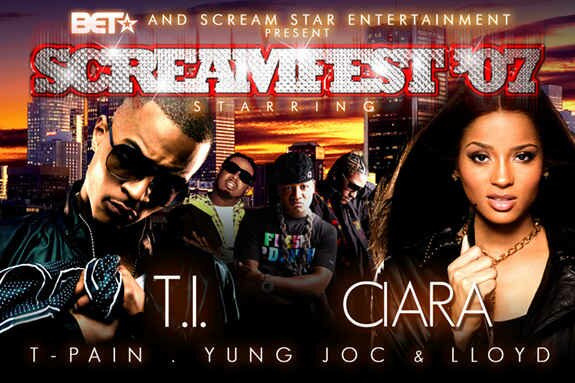 BET held a press conference on yesterday for the 2007 "Screamfest" Tour which will be headlined by Grammy Award winning artists Ciara and TI. In addition to having performances by Ciara and T.I., artists Yung Joc, Lloyd, and T-Pain have been added on.
"This is my second time being a part of the SCREAM and I must say that it feels bigger and better this year," said Ciara. "I am very excited about the lineup. It's the hottest names in music and I can guarantee that fans will be excited as well. Expect a lot of energy on this tour and expect to hear hit after hit after hit!"

The tour will begin next month on August 3, 2007, stopping first in New Orleans.
"SCREAMFEST '07 will surpass all expectations. This year I plan on setting the bar extremely high," said T.I. "Nothing like what you're used to. The tour is evolving and becoming more mature. We are going to go hard. I guarantee it will be the tour of the summer and you can bet the house on that."