Movie 'Resident Evil: Extinction' To Feature Ashanti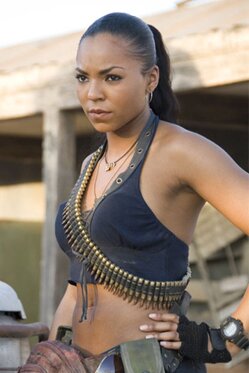 Singer and actress Ashanti joins the cast for the third installment of the video game adaptation as Nurse Betty in "Resident Evil: Extinction" the upcoming 2007 post-apocalyptic science fiction film, and sequel to the 2004 film Resident Evil: Apocalypse.
The movie picks up where the last film left off. Milla Jovovich reprises her role as Alice as well as comedian Mike Epps ( L.J.), Oded Fehr (Carlos Olivera), and Iain Glen (Dr. Isaacs/Tyrant).

The movie is expected to hits theaters in September.
Synopsis:
Alice (MILLA JOVOVICH), now in hiding in the Nevada desert, once again joins forces with Carlos Olivera (ODED FEHR) and L.J. (Mike Epps), along with new survivors Claire (Ali Larter), K-Mart (Spencer Locke ) and Nurse Betty (Ashanti) to try to eliminate the deadly virus that threatens to make every human being undead…and to seek justice.