Capitol Music Group Brings Artists To Fans At Virtual Nightclub 'The Tower'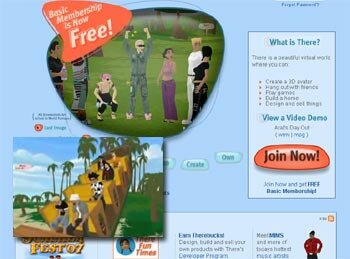 If you like "The Sims" you may like There.com.
Makena Technologies, creator of the popular social virtual world There.com which allows users to fully interact in a 3D online virtual world, customize and create their own 3D character, meet and hang out with friends in real-time using voice and text chat, build their own virtual homes, participate in events ranging from car races to paintball to fashion shows and even create and sell their own virtual items, has created a partnership with Capitol Music Group to bring music artists to fans on There.com.

The newly constructed Capitol Music Group venue, "The Tower", an exclusive virtual nightclub environment will allow fans to meet and talk with band members and watch videos from Capitol Music Group artists. Interactive kiosks will be placed in popular locations throughout the virtual world, offering the sale of both virtual and real world merchandise.
The nightclub is stated to officially open on July 10 at 8 PM with an appearance by rapper MIMS followed by other artists in the lineup over the month such as the Beastie Boys, Yellowcard, Korn and others. During their appearances, artists will spend time with their fans, answer fan questions and provide information about tours and albums.
It's free to join.