TI. Gets In Scuffle With Ludacris' Manager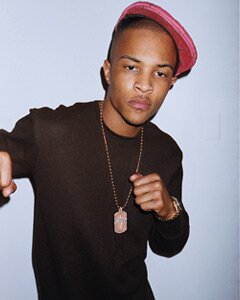 After Ludacris and his manager Chaka Zulu were said to have arrived three hours into the "Make It Happen" luncheon held by music executive Kevin Liles of Warner Music Group, T.I. alledgely punched Zulu in the face after exchanging words with him. The Industry Event held at the Sunset Tower Hotel in West Hollywod turned into a brief shoving and pushing battle witnesses state after T.I. aimed to punch Chaka Zulu.

The event being held was aimed at power brokers with the guest of honor being Holly Robinson Peete (21 Jump Street/Hanging With Mr. Cooper). Other guests included Musiq Soulchild, Twista, Yung Joc, Brandy, Omarosa Manigault-Stallworth, Omar Epps and others.
T.I. and Ludacris have been lyrical rivals for some time before recently ending their differences, but reports believe that the beef between the two was reignited after comments were made by T.I. regarding Ludacris' Grammy win earlier this year after not winning.
Maybe that's why Ludacris says in his latest song he feels like slapping somebody today.