Akon Signs Brooklyn Rapper Red Café To His Label Konvict Music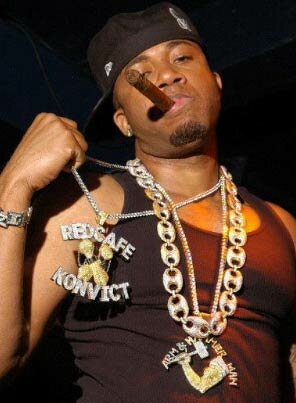 Recently Akon announced the signing of rapper/emcee Red Café to his label by presenting him with a Konvict Music chain at the Hot 97 Summer Jam concert on June 3, 2007. Akon states, "He's gonna bring New York back!"

Although Red Cafe has had his bad moments and signings with labels such Loud, Arista, Capitol Records and Mack 10′s Hoo Bangin, he has managed to stay afloat through the circulation of guest appearing on mixtapes and other artists' songs. The rapper who hasn't released an album of his own, also gained recognition as a ghost-writer by writing for those such as Diddy, Busta Rhymes and others.
Red Cafe is expected to be releasing his debut album "The Shakedown" sometime later this year on Shakedown/Konvict Music. Expected guest appearances are Akon, Tyrese, Remy Ma, Fabolous and Bone Thugs-N-Harmony.