50 Cent Offering Free G-Unit Clothing In Zwinktopia Virtual Boutique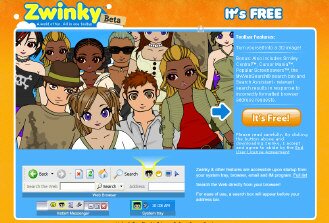 If you're familiar with the song from the ad "Get Zwinky, Get Zwinky…," then you'll know exactly what Zwinktopia is all about. For those who don't know anything about Zwinktopia, it's a virtual world where you create characters, dress them up with the latest fashions, play games, interact with other Zwinkians and more.
Anways, 50 Cent will be opening his own boutique in the virtual world of Zwinktopia to get Zwinkians to wear his G-Unit clothing. The rapper is reportedly doing it so that he can push his new album "Curtis". According to news reports, 50 Cent's virtual shop will be one of several established to distribute not only digital "clothing", but merchandise to over 6.5 million members of the Zwinky community. Currently industry execs have on their thinking caps to see how they can benefit and operate in Zwinktopia, like 50 Cent.

"It's the equivalent of sending a marketing team to a new country where there is a new economy," says Chris "Broadway" Romero, 50's creative director of digital media.
Evidentially, Chris Romero is testing the waters to see what the outcome will be by offering G-Unit clothing in digital format.
Well, while 50 Cent will be giving away his G-Unit gear in the Zwinky world, other artists have their hands out for the users Zbucks. What are Zbucks? Zbucks fortunately, is Zwinktopia's currency and can be won by playing online games and doing activites. After hearing from other Zwinky users, earning those Zbucks doesn't come easy. Many users get consumed in shopping, and spending in on a number or odd things and have to go and hustle to earn more Zbucks. One user reported that the main attraction of Zwinktopia is the chat feature and if you're looking to become a part of the Zwinky world, playing games are the easiest way to rack up ZBucks.
[display_podcast]