50 Cent name change for new movie "Home of The Brave"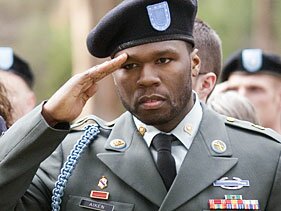 According to sources 50 Cent has opted to use his birth name that his mother gave him for for the new movie "Home of the Brave". 50 Cent was stated that he felt it would scare people way is he used his rap name. 50 Cent will attach the name Curtis "50 Cent" Jackson on all the promotional posters for the new film because he believes it will give him more credibility.
"I think when people hear 50 Cent they directly associate it with the music and the aggressive content in the music. So I told them to use my real name and put 50 Cent in the middle."
In the movie 50 Cent "Curtis Jackson" will play an American soldier that is returning home from the Iraq war. 50 Cent believe that fans may be a little disappointed when they realize that his character doesn't have that same aggressive edge that they are so use to.
50 Cent will also be starring alongside Nicolas Cage in a new boxing drama 'The Dance', which will begin filming in 2007 and set for release in 2008.