Ludacris and Senator Barack Obama launches YouthAIDS Kickme campaign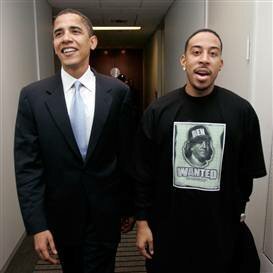 Senator Barack Obama met with Ludacris on November 30th privately. "We talked about empowering the youth," said Ludacris (Chris Bridges).
Ludacris met with Senator Barack Obama to launch the YouthAIDS "Kick Me" campaign inorder to raise HIV/AIDS awareness while visiting Northwestern University in Chicago.
Ludacris stated the meeting Obama was like meeting a relative. When media tried to get comments from Obama about their meeting he declined to comment, but instead walked Ludacris to the elevator.
Barack Obama is an Illinois first-term Democrat who is stated to be running for White House in 2008. According to sources Obama will be making his decision in a few months.
"Release Therapy" is Ludacris' latest album which his latest single "Money Maker" featuring Pharrell is ranked number 8 on the Billboard Hot 100 Chart (18 weeks) and number 4 on the Billboard Singles Hot Rap Tracks (19 weeks).