Jackass star Steve-O plans to make rap album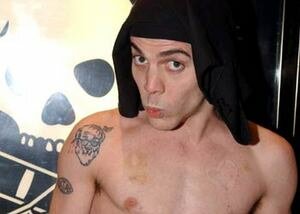 If you don't know him by name, you know him from the hit show "Jackass". Steve-O "Stephen Glover" who is one of the pranksters of the reality show and movie is stated to be launching a new career as a rapper. How could one guy go from stapling his buttocks together, sniffing up spaghetti through his nose and doing crazy stunts jump to such a thing. Well Steve-O states that he's been in talks with Universal Records for the planning of his proposed album according to reports.
To help with the claims, the prankster made a recent announcement at a performance by Metal Skool in Hollywood, CA after Michael Starr called him onto the stage. Steve-O went ahead and gave the audience a sample of his rapping skills before pulling off one of pranks which ended with Steve-O amusing the roaring audience by dropping down his trousers to flash his butt.