Big Boi Shares Some Details on New Untitled Album and Movie 'Who's Your Caddy?'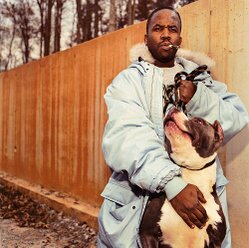 As an update, the latest has been released by Atlanta's Antwan (Big Boi) Patton of Outkast on his latest projects.
Patton was quoted as saying "You're going to get something from every genre, every funk, beat, loop, horn, and whistle. We got it all on the record," the Atlanta artist stated while on the set of Fantasia's "Hood Boy" video, according to Associated Press. Although untitled, the release can be expected to be in stores in 2007.
According to Patton, fans can expect the tracks to be similar to Speakerboxxx, which is Big Boi's half of the Outkast 2003 double album.
As I wrote in an earlier article covering Big Boi's performance in Detroit (Kool XL Launch Party on November 6), he is definitely putting his toes in the waters of the Big Screen. Patton, who has held roles in 2006′s "ATL" and "Idlewild", has been on site for the shooting of "Who's Your Caddy?".
The comedy, starring Cedric the Entertainer, Faizon Love, Andy Milonakis and Finess Mitchell persuaded Patton to actually learn to play golf for the part, and not forgetting his education in playing polo. "Acting is great, man," Big Boi stated to Associated Press. "I've been getting offers for years, but music has always been the first love. But now that I got time to step back from everything and take a breather, I can pick and choose roles and take them as they come."
According to Patton, "It's ["Who's Your Caddy"] about a music mogul who tries to play golf in this exclusive golf community. I go inside this country club and buy this huge house, and the 17th hole just happens to be on my property, so they got to let me in. There's a lot of antics with them trying to get me [kicked] out and things like that." Patton expresses how much he enjoyed the storyline. "It's seriously funny," he laughs.
It wasn't stated when the movie would hit theaters, but you can be sure that we'll be the first to know. Until then, keep your eyes and ears open for the latest!
Ronyae Snowden"