Lil Wayne and Baby lip locking, Baby Clears It Up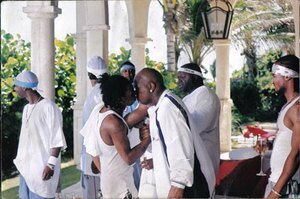 A photo has been circulating around of Lil Wayne and Baby kissing each other on the lips. The photo has had everyone talking and questioning whether the two are gay or if it was just a friendly kiss to the close knitted two.
Baby joined New Orleans radio station Q93 DJ Uptown Angela in an interview and told listeners that the picture only expressed parternal love, due to Lil Wayne being like his true son to help clear things up.
"Before I had a child, Wayne and all of them were my children, you heard me? Wayne to me is my son – my first-born son – and that's what it do for me," Baby told host Uptown Angela. "That's my life, that's my love and that's my thing. That's my lil' son. I love him to death."
It is stated that the picture surfaced through Gillie The Kid, a former Cash Money artist-turned-rival who admitted to releasing the picture and who also took credit for it's release. Despite the release of the photo nothing has changed the way Baby works. Baby actually during the course of the interview refrained from calling out names and demeaning anyones character.
"Haters – that's just life. I don't even trip off that. I go to the bank in the morning. I can go buy whatever I feel like. So, I don't even set trip off that," Baby said. "Can't nobody live my life, but me and I don't try to live nobody else's life."