P. Diddy's Excuse To Why He's Steering Clear of Marriage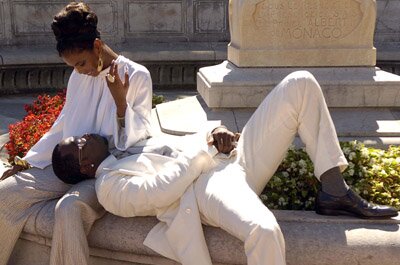 Although Sean "P. Diddy" Combs says that fashion model Kim Porter is that woman he will marry, he's steering very clear of it right now.
"I don't want to make that pledge in front of God and not be able to see it all the way out. I didn't grow up around a married family, so it's taking me a bit longer.
"A lot of guys out there get married, and they still do their thing. I don't want to get married and fail."
As many may know, Sean "P. Diddy" Combs can't find it in his heart to marry his long-time girlfriend Kim Porter who's currently pregnant with his twin girls. The two already have a son together named Christian who's eight years old son.
Sean "P. Diddy" Combs and Kim Porter's relationship has been a roller coaster for the past 10 years. Kim Porter has stayed on the side lines while Sean "P. Diddy" Combs has went through his fling of women. Earlier reports state that Kim Porter was there for the year that he was with singer/actress Jennifer Lopez and stated she knew that he was going to come back to her and she wasn't going anywhere.
While numerous Hollywood sources call Kim Porter pathetic for letting him cheat on her right and left for the past 10 years, is P. Diddy on to something with the growth in divorces or does he know that he can have his way as long as she let's him?