Jay-Z Crosses Over to Nets and NBA on TNT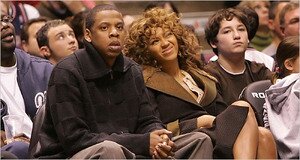 According to sources during TNT's new ad campaign for the National Basketball Association starring Jay-Z, the rapper and businessman gets the final say, which is not about the coming season, but about his coming CD, "Kingdom Come."
The ads are all similar: Jay-Z, a part owner of the Nets, rides around Manhattan in the back seat of a luxurious limousine while he discusses subjects that are common to music and basketball like rivalry, success, the spotlight and stardom. But his remarks are as much about his career as they are about anyone else's.
There are short clips of N.B.A. stars, but the focus is on Jay-Z, not Allen Iverson, Dwyane Wade, Kobe Bryant, Chris Paul or Steve Nash. Last season, the misguided Ali G character created by Sacha Baron Cohen shared screen time with several players in TNT's ads, and, in the previous two seasons, children, players and TNT's "Inside the NBA" announcers interacted.
"We looked at Jay-Z as a part owner, with a high profile, who has great passion for basketball, which fit our objectives," said Jenny Storms, the senior vice president for marketing and programming of Turner Sports.
At the end of five of the promotional ads, an electronic signboard promotes the opening night of the season, which is Tuesday, and displays the logos of the N.B.A. and TNT.
Then, after a short break for more of Jay-Z's philosophizing, up flashes "There Is Only One" — a slogan for the release of the CD, Jay-Z's first album since he ended his retirement — and "11.21.06," the release date.
In the sixth ad, the logos and Jay-Z's slogan share the screen. Some of the ads will run well beyond 11.21.
"We wanted someone like Jay-Z to express the truth about TNT and N.B.A. on Thursday nights," Storms said, referring to the "Let the Truth Be Told" slogan that has been extended into its fourth season.
Jay-Z is stated not to be receiving a fee for his stint on TNT, Storms told sources. But he will get untold amounts of free publicity for "Kingdom Come," while TNT will receive the benefit of connecting a rap superstar with a rap-friendly sport.
Nets fans will receive Jay-Z's new cd for buying tickets of $85 and up for each of the team's first three home games. The hundreds who have so far purchased the tickets have yet to receive the CD.
The CD is said to be available November 21st.