C-Murder to Release Album "Tru Story" In October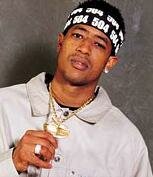 It was announced by Koch Records that the long awaited album from C-Murder will be released on October 17th,2006. The album will be released in a special deluxe CD+DVD combo, and will include 5 new never-before-released songs which where recorded after C-Murder was released from prison.
In addition to the album, the DVD will contain 60 minutes of raw footage and videos and will be hosted by the one and only B.G. The documentary was directed by Will Horton a native of New Orleans who is also known for the video "Y'All Heard Of Me" feat. B.G. and the video "My Life" which was just recently made available.
"The TRU Story…Continued" Partial Tracklisting (22 tracks total):
All New Bonus Material:
1. I Want It
2. I Live In The Ghetto
3. Calliope
4. On My Block feat. Bootleg of The Dayton Family
5. Die For Mine feat. B.G.
Original The TRUest S*** I Ever Said Album:
6. Intro
7. My Life
8. Skit
9. Stressing
10. Won't Let Me Out feat. Akon
11. Hustla's Wife feat. Junie Bezel
12. Holla @ Me feat. Soulja Slim