Super-Producer J.R. Rotem Rising Fast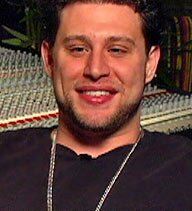 With hits by 50 cent, Rihanna, Lil Kim, Lil Flip, Trey Songz, JoJo, Britney Spears and Rick Ross under his belt, he is quickly becoming the name everyone is talking about… J.R. Rotem. Everyone from Snoop, Mya, and Paris Hilton is familiar with him.
Yes, you know him, how about the song "S.O.S." or how about "Push It" and no not Salt-n-Peppa, the one by Rick Ross.
The Berklee College Music grad never thought he would end up in the world of hip-hop or pop because he actually wanted to be involved in classical music or jazz.
"I always liked hip-hop, but didn't see how it would apply to me," Rotem explained recently. "When I heard Dr. Dre's first Chronic album, I didn't necessarily know what production was, but I was like, 'I like this music' — and I'd be trying to play, like, 'Bitches Ain't Sh–' in jazz format. Then, when Dr. Dre's second Chronic came out in 1999, is when I really started thinking, 'I want to make beats.' "
What landed him on the doorsteps of hip-hop was his meeting with Mr.Porter and HiTek who guided him in the studio. This eventually ended up with Dr. Dre earing his beats and eventually buying one for his unreleased album entitled LP Detox.
"When I started producing I always said to myself, 'I'm not gonna sample, because I can play.' But then when 'S.O.S.' hit, a lot of people came to me for those type of things. And I kind of started realizing, 'You know, it's cool.' I do play 90 percent of the time, but at the end of the day, I'm not concerned anymore with showing off — 'Hey, I can play classical, I can play jazz.' I just want to be somebody people can go to for hits, and if that hit samples something that resonates, fine. Obviously 'S.O.S.' was a great song, and the beat was flipped, but it wouldn't have been a hit song if people didn't at least on some level recognize "Tainted Love", stated Rotem.
"I don't want to put limitations on myself, but I don't think you're going to see me getting on the mic or doing a hype track like Puffy or dancing in a video or anything like that," he said. "That's just not my style. I'm happy to get recognition behind the scenes."
"I feel that hip-hop is kind of like the jazz of today.." he explained. "I don't want to say that jazz is dead," he continued. "But hip-hop is the innovative music now that's really, really alive."