Chuck D Talks DRM in London, Warns of MySpace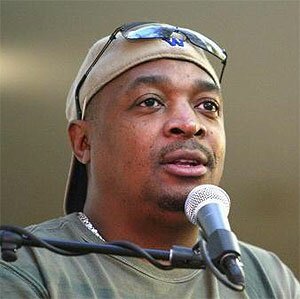 Chuck D, the rapper, once founding member of hip-hop group Public Enemy, and Mobile technology. You didn't know? Well, ever heard of Chuck D Mobile, it launched earlier this year to offer a range of ringtones, videos and other hip-hop-related content for mobile phones.
Recently, the mobile entrepreneur, Chuck D said at the Mobile Content World conference in London that he has always looked at technology as "something you can apply to a better world if you stay on top of it and don't let it stay on top of you".
"[Napster founder] Shawn Fanning revolutionized the way we get music–he doesn't get the respect he deserves even today," Chuck D said on Tuesday.
The rapper goes on to say that he does believe in some sort of Digital rights management (DRM) but pointed out that MP3 was the most popular compression format.
He said he does "believe in some sort of DRM" but pointed out that MP3 was the most popular compression format because it does not limit how the customer can use the file once bought.
"You've got artists who are just starting out who are understanding that DRM is a way of life," Chuck D said, adding that musicians "understand it doesn't have to be the Pirates of Penzance as it was," a reference to the free-for-all early days of Napster and similar P2P engines.
"It [DRM] has to get to a point where it works for everyone–sometimes people can't share or burn their own CD," he said. He suggested that a solution may lie in a universal media format but said that development was "impossible right now."
Chuck D also stated that he thinks the purchase this year of MySpace by Rupert Murdoch's News Corp may eventually make the portal less effective in promoting new artists.
"The problem with corporations is they come into any business with a gold-rush mentality of making a killing and there's a difference between making a killing and making a living," he said, warning that "people in the back of their minds think the free reign [of sites such as MySpace and YouTube] is going to be taken away and collapse because it's too good to be true".