Beyonce Does It Sexy at MTV Awards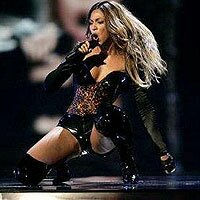 If you missed the 2006 MTV Video Music Awards, which was in New York, August 31, 2006, then you missed a very sexy body-clenching performance by singer Beyonce Knowles.
Starting out wearing a full-length trenchcoat, Beyonce performed a hip-hop dance routine with 10 lookalikes afterwards revealing this sexy outfit underneath.
Her performance was followed by a standing ovation from the audience.